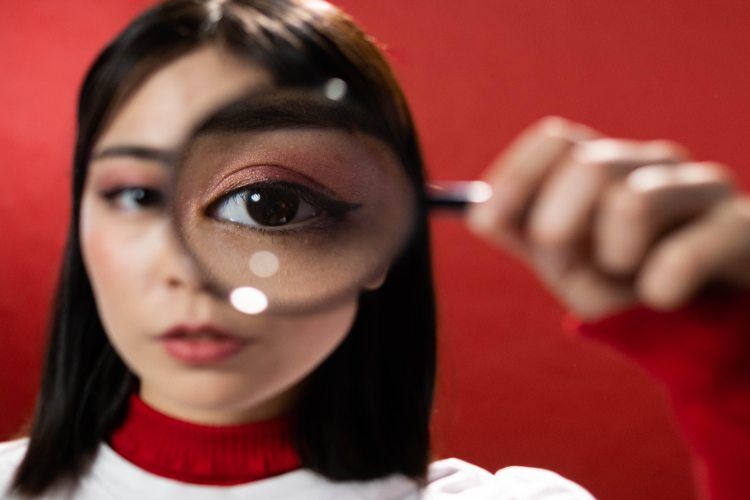 How To Find High-Converting Life Coaching Keywords
Since you've landed on this article, you're likely looking for the fastest way to find the best life coaching keywords. But slow down a little because not all keywords are created equal – some convert much better than others. Some keywords are good for organic marketing, others not so much. Others still are a great fit for paid Google ads.
Here's an extensive yet brief guide that will show you how to pick the right life coaching keywords for your website, your blog, your youtube channel, and your Google Ads.
Life coaching keywords that convert
65% of my clients are life coaches. I've worked with hundreds of life coaches over the years. Finding the right keywords for a life coach can make or break their business.
The first step to finding keywords that convert well is understanding keyword intent (short for intention). The intention behind the search is key to whether your blog post, video, or article will convert into a discovery call.
Life coaching can be pretty complex. Often the biggest difficulty for life coaches is that they offer similar outcomes to each other, but they reach those client outcomes in different ways. One might use hypnotherapy, other habit-building techniques, or yoga and meditation.
The secret is to build a customer journey that helps you understand your client's thoughts and actions before they decide to work with you.
In content marketing, the basic customer journey is broken down into 3 stages:
Awareness – where the prospect is aware of their pain points but doesn't know what they are and can't give them a name, they seek to understand where they come from.
Consideration – the stage where they have named their problem and are now looking for a solution – most Googlers will be in this stage or the next. And that's great because these stages are closer to the buying stage.
Decision – this is where they know they want to work with a coach or therapist and now need to decide why they should work with you.
If you create content that addresses all 3 stages, you will end up with content that converts.
What's the catch? (many ask me this)
There's only one catch – you can only do this for 1 client type (or client avatar) at a time. Because you'll need to go deep on one avatar to see results first.
Dividing your time and focus amongst different ideal clients will dilute your results and rob you of sustainability. Do go deep with one ideal client first – then move onto a second when you have enough cash flow to hire help.
How to pick your life coaching keywords for blogging or youtube
In this example, I'm using Keyword Finder, my favorite keyword research tool. It's simple to use, affordable, and allows you to keep keyword lists.
Step 1. Consult your customer journey and make a list of customer struggles. Your list might look something like this.

Struggle

Desire

Potential Keywords

Unhappy at work

To be respected

I hate my boss




I'm not respected at work




I hate my job


How to win respect


How to make colleagues respect you

How to deal with conflict at work




How to be happier at work

Underpaid

Promotion to manager

How to get promoted




How to get a promotion at work


How to ask for a higher wage


How to be considered for a promotion
Once you have your list, pop the keywords into your keyword tool, and voila!
The tool will recommend even more keywords to you. It will also show you how much traffic a keyword has and how difficult it is to rank for that keyword.
When you're picking keywords to use in your organic strategy for blogging on your website and youtube, you want to look for keywords with low competition. The keyword finder tool has an easy way of showing you.
The keywords the tool tells you are easy or possible to rank for; you can go ahead and use them. Don't go there when the tool says it's hard or too hard.
You can keep going deeper and deeper into keyword research, starting just from a handful like the list above, because it will keep giving you more and more suggestions. Every suggestion can be used as the main keyword to generate even more suggestions. So the sky's the limit.
Using this method, you will never run out of content ideas again!
But not all content ideas are created equal – always focus on the intention of the person searching that keyword and create the perfect article for their desire/search.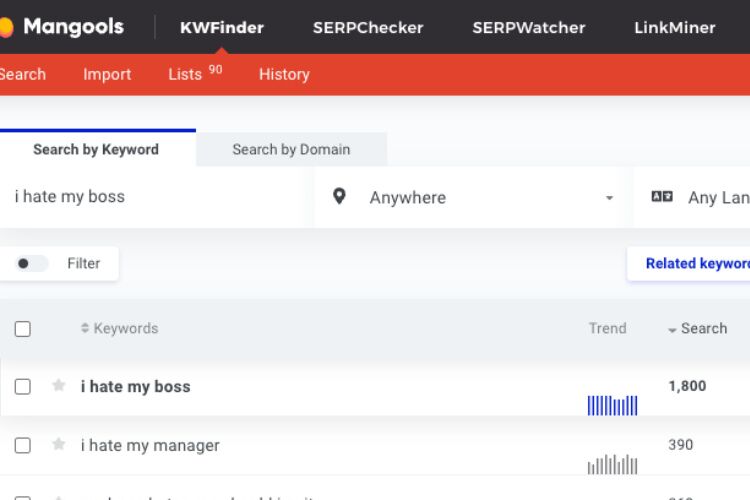 Which keywords to pick for Google Ads
Google Ads work a little differently. When picking keywords for Google Ads, you don't need to worry about competition much. You can easily go for difficult keywords as you will be paying for visibility not competing.
The keyword tool I mentioned before – The Mangool Keyword Finder, works nicely for this too. When you look up a keyword such as life coach in the keyword tool you will find the following results…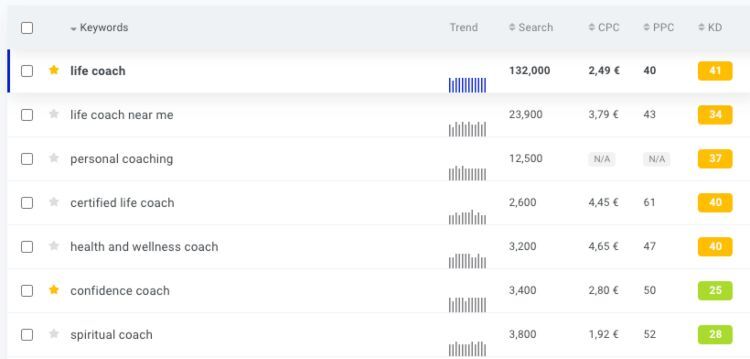 As you can see from the results in the keyword research tool, it's a keyword that has a lot of traffic, there are many people out there looking for a life coach. It also says under the CPC column – that people are paying $2.49 per click.
This makes it pretty reasonable. It makes a good keyword for our life coach. But we encouraged our life coach to niche down – and in fact a nice mix of niche keywords alongside this you work really nicely for PPC.
Any keyword you have a niched package for is fair game and will convert into a customer fast. Just avoid really expensive keywords because they will drain your funds fast. The price you see in the research tool is the price per click. So this is how much you pay for each person that comes to your website.
Using keywords to inform your strategy and offering
You can also use keywords to inform your strategy and offerings. If you're a little lost as to what to niche down to or what offers you should be selling, you can use keyword research to help you.
For example, look at the search below – I searched life coach, and yet it suggests several other titles that have good traffic and are less competitive – these make great niches to get into.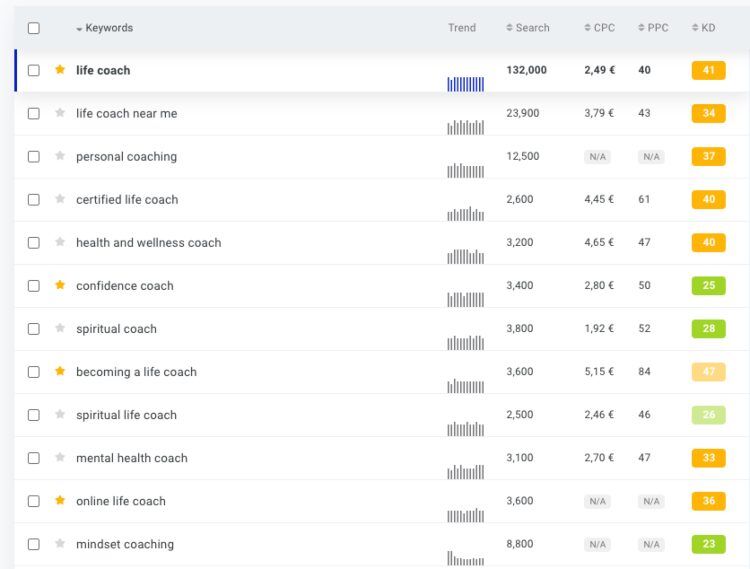 You can also use the struggles you deal with to research some alternatives – here are a few examples I searched up…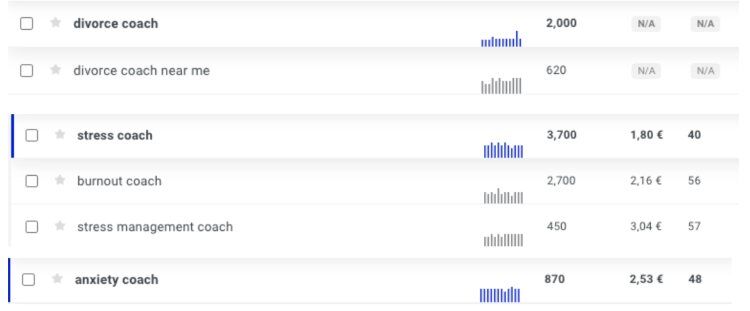 The great thing about these keywords is that if you match them to your niche and your offering, it will be so easy for you to convert them into clients.
These searches come from people whose pain points have become such a struggle that they have gone to Google to look for someone like you. Most of these leads will become clients because they were purchase-ready before they even came across your website.
Would you'd like to understand how you could attract purchase-ready prospects to your website and convert them into clients with ease? Book your free 30-minute discovery call here at meetme.so/stephaniefiteni