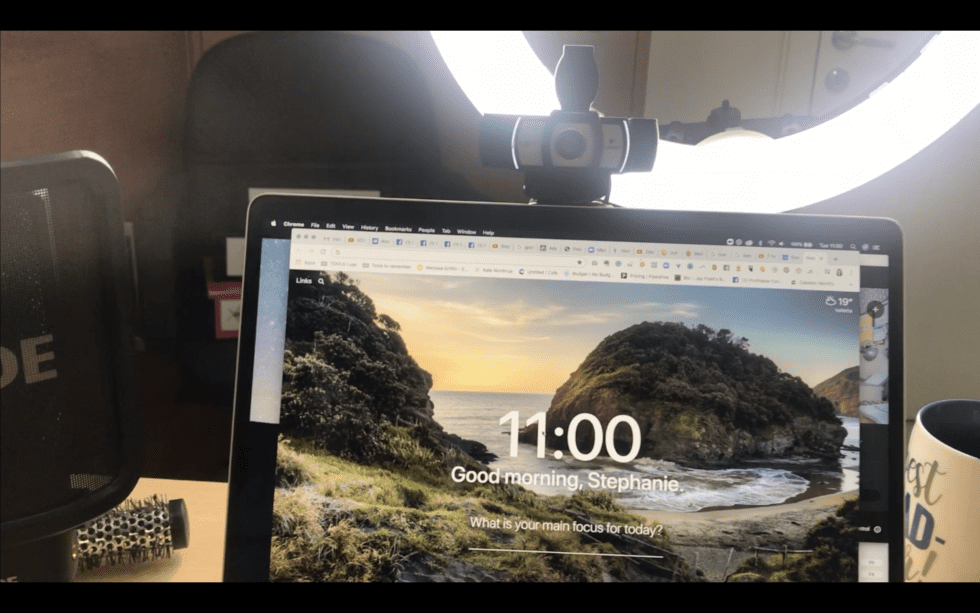 Live Streaming Setup: The hardware you need to start digital coaching and consulting
I often get asked what equipment I use to look so well lit and sound so clear online? It's very tempting to splash out on the best equipment so you can feel like a pro but that's not what I would advise. I started with a basic live stream set-up to do my live content marketing videos. Then step by step, I rewarded myself with better, improved equipment as I went along. Today, I feel it's been an interesting and rewarding journey. Upgrading slowly helped me stay within budget and also stay motivated.
1. Live Streaming Set-up : The SmartPhone Tripod Stand
My first investment was a simple inexpensive mobile tripod stand. It can be extended, so it's very simple. It will set you back less than $20. The only thing you need to worry about it making sure that the tripod you pick has an attachment for your phone model and that it's strong enough and can go wide enough to support its weight. (when you go very cheap you can end up with a stand that barely holds itself up especially if you have a languish phone – so read their reviews carefully before you buy.
I started off using my iPhone 4 – but it doesn't have to be an apple phone. As long as it comes with a good camera, it will work. Of course, good lighting helps. With this set-up, it's best to use outdoor lighting (sit near a window) and for dull days you can boost with the next piece of equipment.
Use vertical set-up (9:16) for stories and horizontal (16:9) for youtube or regular videos.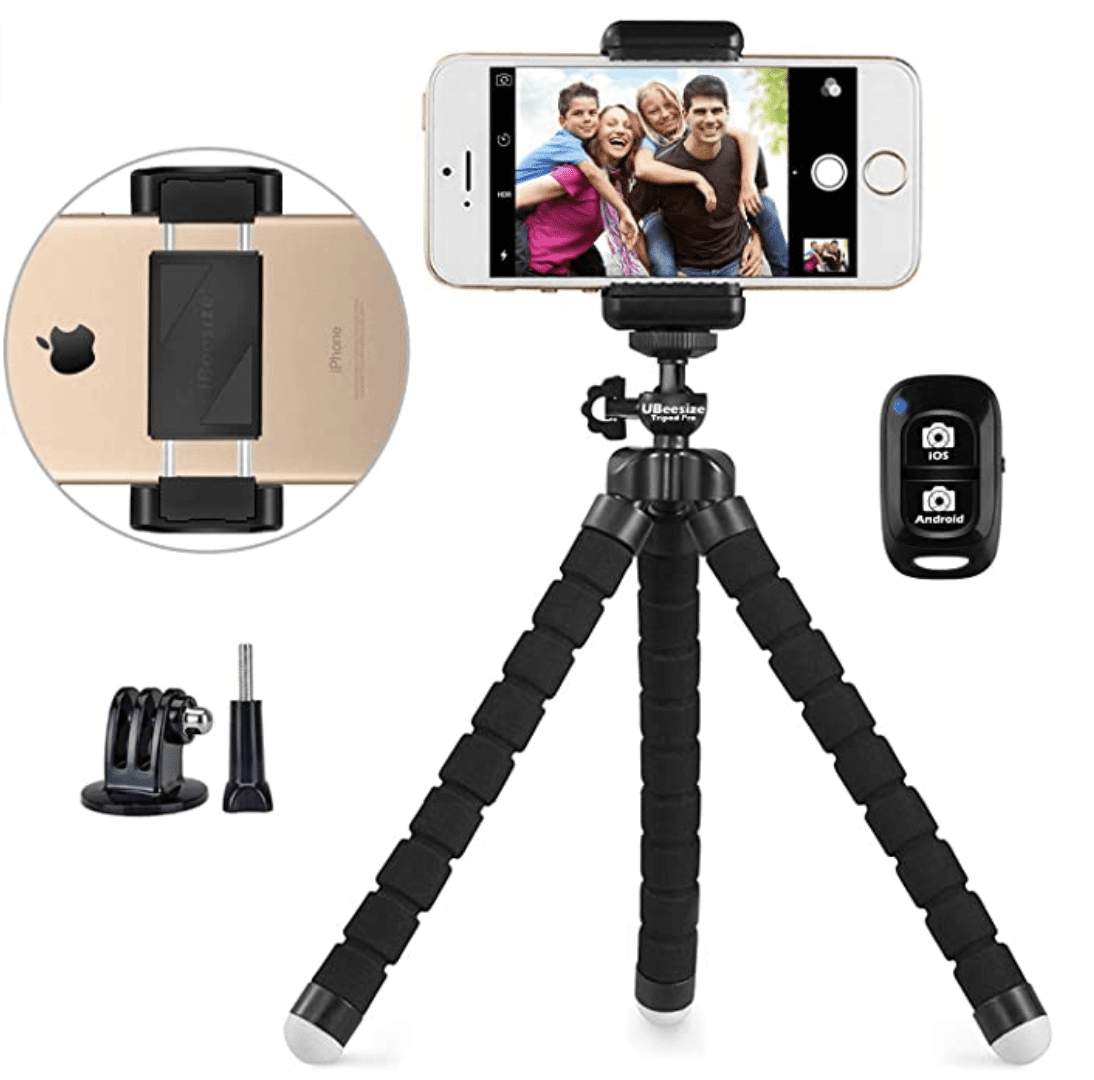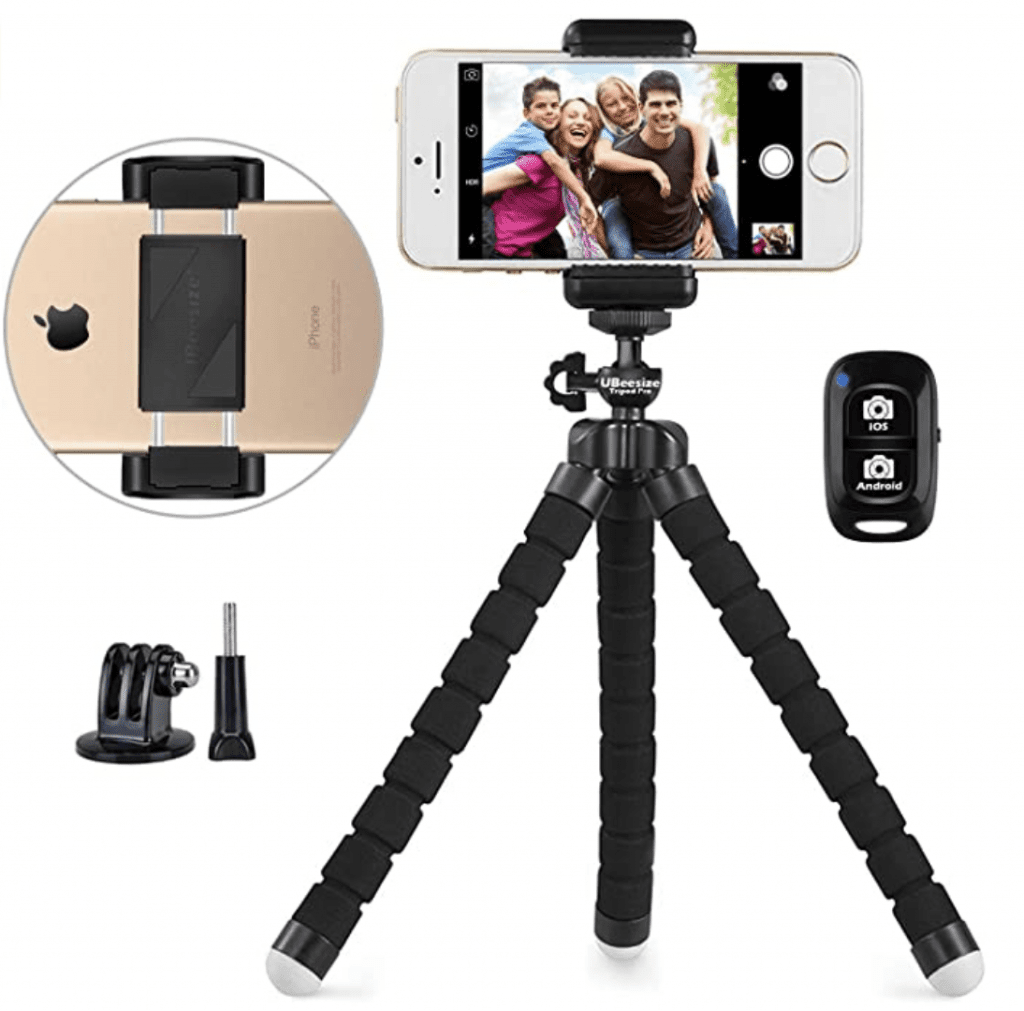 2. Live Streaming Set-up : First lighting gadget, the Mini LED panel
When it's little dull, you'll want to boost your outdoor or office lighting with a small LED light. I started really small. 10 cm x 5 cm. These little lights are great for vlogging, you can stick them to your screen, place on top of your phone stand or simple place on your desk. (I used to just stick to my screen or on the wall near the window to boost natural lighting). They can be charged through USB directly into your computer, so no additional charging cables are needed. This is great because you can leave them plugged in during your livestream and this assures you the light won't switch off and leave you darkened halfway through a live (this happened to me a couple of times – it's very disorienting) If you have one of the latest macs, you'll need an adapter for the new USB3 inputs.
These lights can be very affordable when they are small. You can also get pretty large ones, but I do not recommend those because you will find it hard to see. The larger lights are too big to use up close. You will also find that when you can't see clearly you will also find it hard to speak cohesively so keep your LED lighting small. Also, be careful to buy the right kit.

You don't want to buy the photography lights that stick on top of a DSLR so make surer you check out the assembly instructions, pictures and reviews before you buy.
Most of the lighting equipment you buy will come with 3 filters: basic white, orange and blue. The blue filter will make the lighter 'colder', if you have yellow lighting in your office, you'll want to use this to balance I out and avoid your skin looking too yellowish. If you feel your office or daylight too white you can go for the orange filter to warm up the atmosphere a little. If you're pretty happy with what your lighting looks like you can go for filter-less white.
So that's the basic set-up I started with. Phone stand and LED light.
One thing I would probably add to that kit if I started off today would be the selfie stick. It's a great alternative to the stand if you're not at your desk when you go live. The LED lights also come with lighting filters to help you balance the colours of your lighting.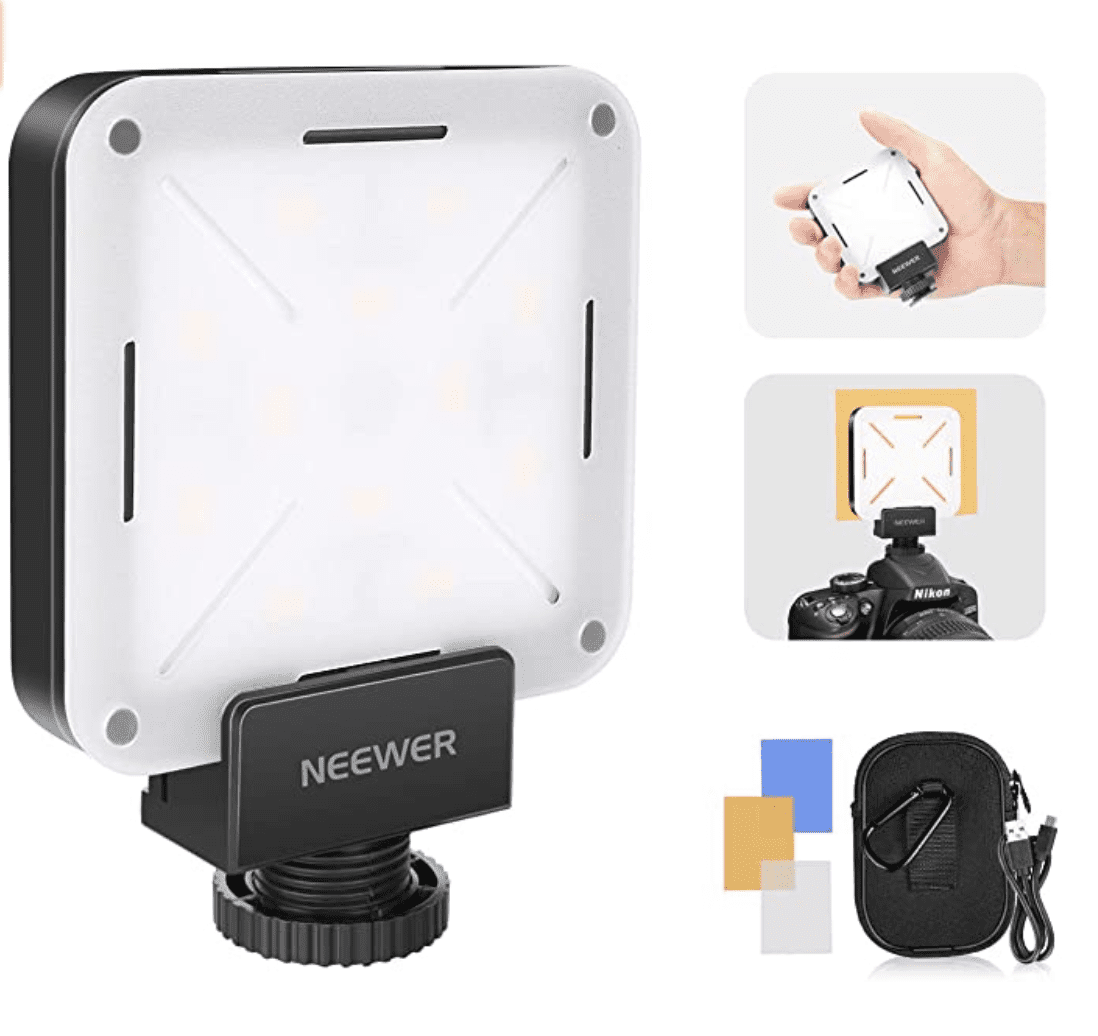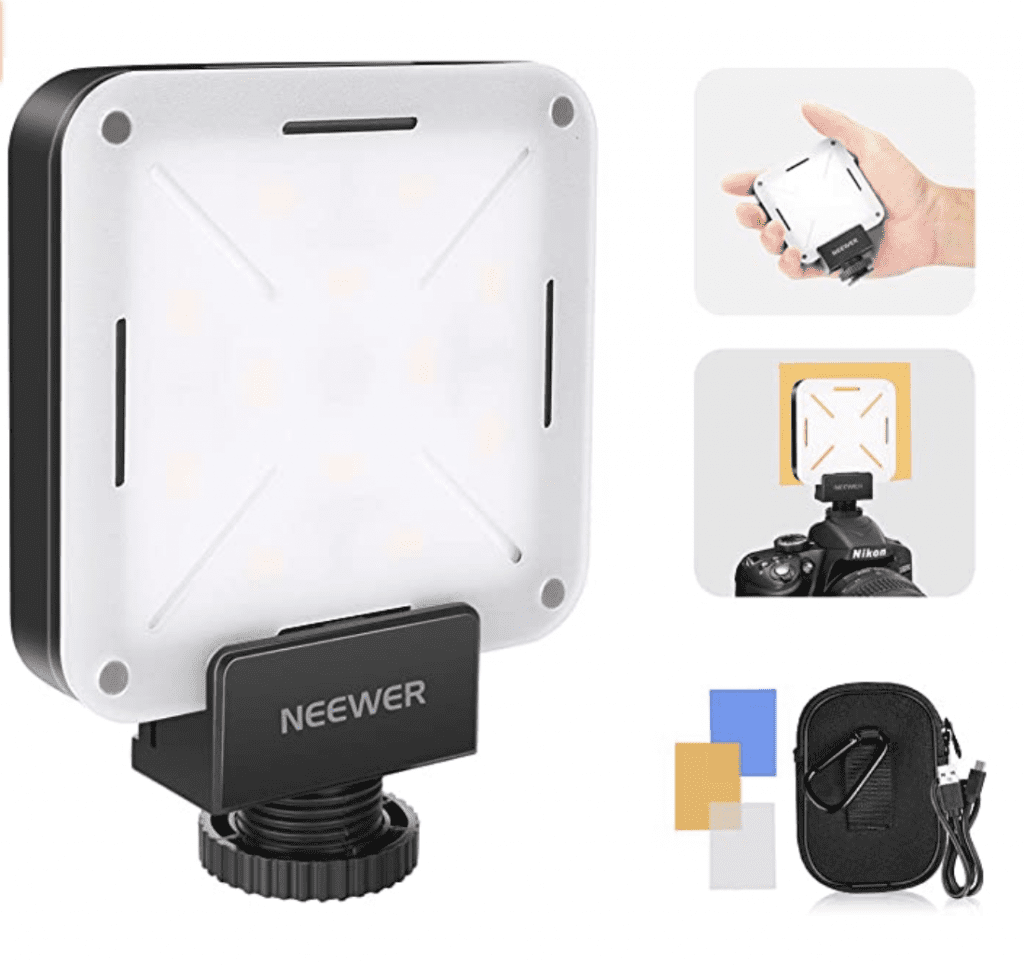 3. Live Streaming Set-up : Live Video Sound using a Lavalier Mic
The next thing you need to worry about is how you sound. You can simply start off with your headphones if they have a microphone too. However, most headphones are not good at blocking out background noise and echo.
Especially if you record in a room like my office, which really echoes, you want to reduce the echo so the sound is clearer. If you go live outdoors, you're going to need a microphone that blocks off background noise. In fact, this is why I started off with the SmartLav Mic.
This is a mic that just clips on. It comes with a pin jack like your headphones and can be used by directly plugging into any headphone input that supports output (that's the majority of them). You will, however, need an adaptor if you use the latest iPhone, this adaptor comes with your phone. This kind of microphone is great for Facebook or youtube lives especially if you broadcast outdoors. It will block out the wind and noisy background noise like cars, chattering etc.
It sticks directly onto your clothes, ideally in a place where your hair will not brush against it, because you'll be able to hear that louder than anything. This will also allow you to look more natural on camera because you won't need to speak too close to your phone. You can, of course, also use this indoors to improve the quality of your sound. It can be plugged into your laptop very easily too.
The Lavalier Rode Microphone also comes with an app. I bought this a few years ago, so I'm pretty sure that the new app is packed with features I didn't use – this will allow you to have better control of your sound. I love that it's super portable; it comes in a little pouch.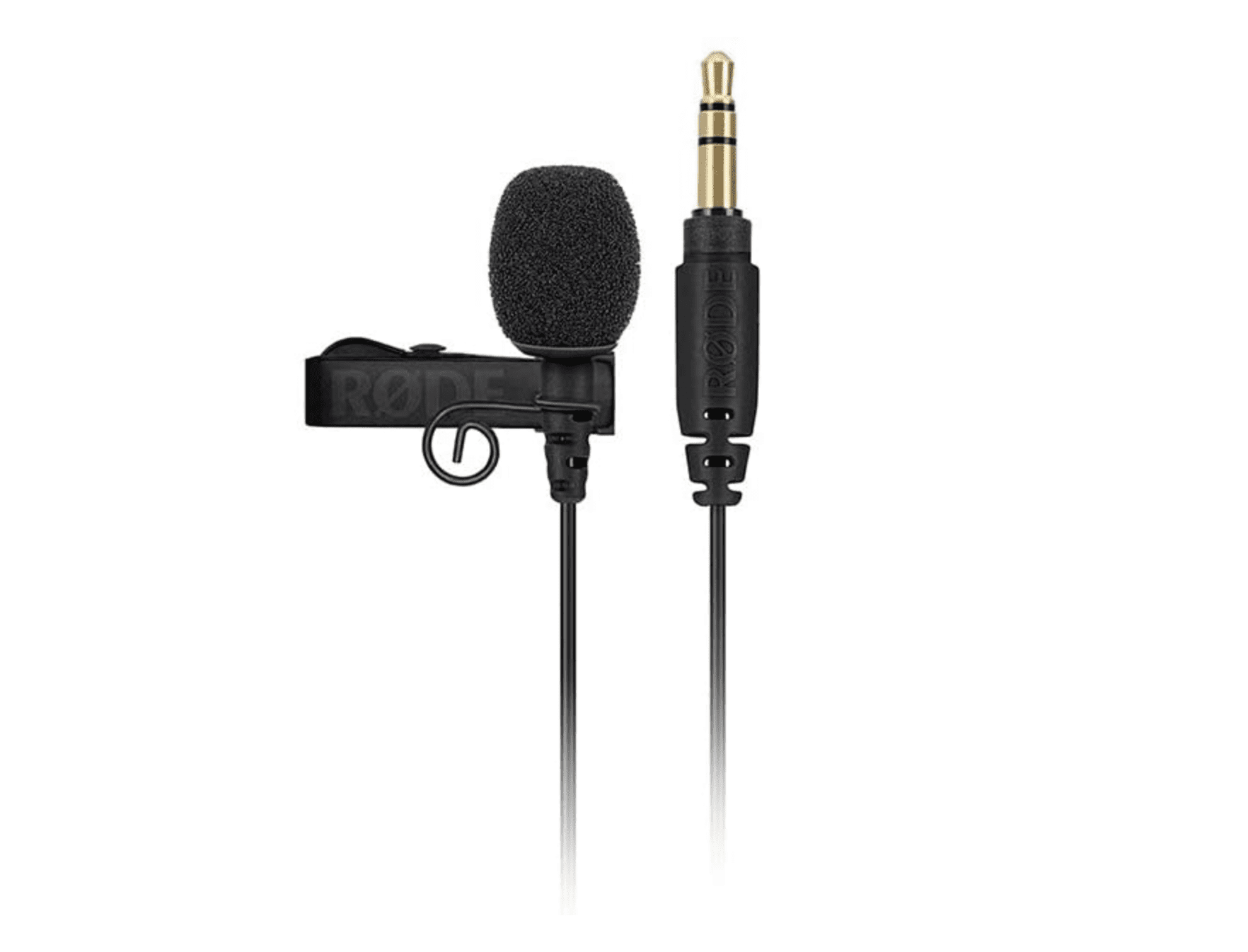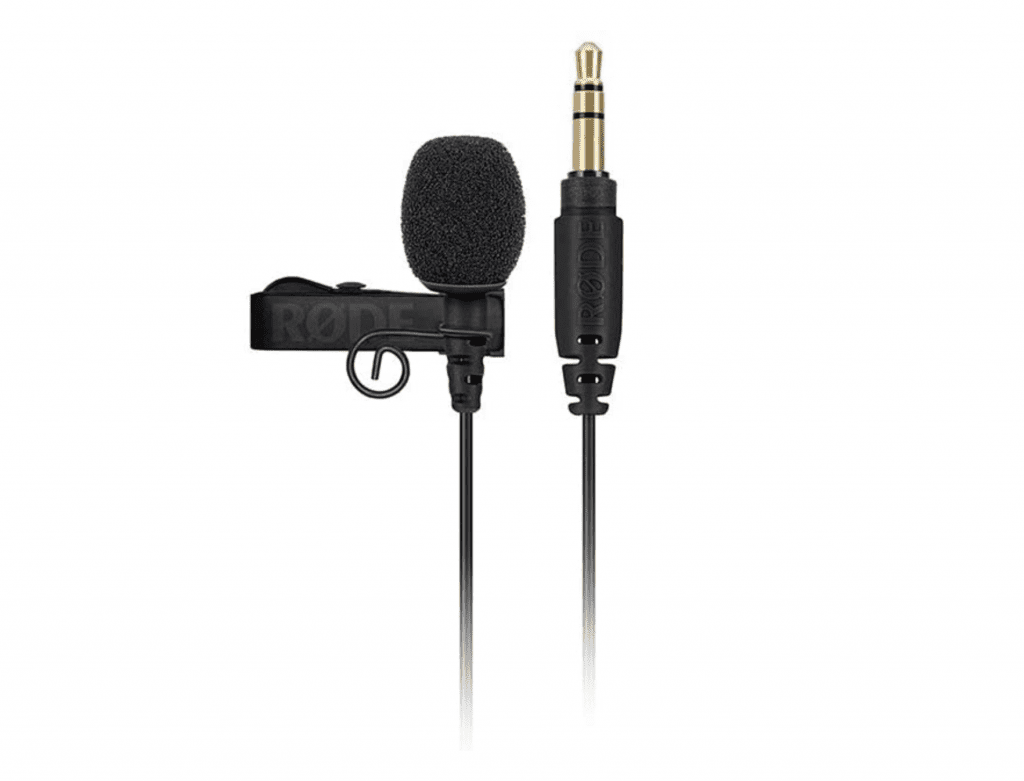 The next items are the ones I use today in 2020.
4. Live Streaming Set-up : The Logitech HD camera.
The Logitech HD Pro Webcam C920 is a 1080p camera, meaning that it allows you to Livestream in HD quality. In the past, you needed a complex streaming set-up with DSLR cameras, but this little webcam can achieve really good quality without all the additional cables and hardware required to stream using a DSLR.
The camera comes in at around $230 (£199.00). For this price, you get the camera with a permanently attached USB cable to plug directly into your computer for laptop. Its has a little shutter door that allows you to close it when not in use and flexible 'leg' that allows you to easily attach it and set it on top of your screen.
I use a laptop because I love to just work from anywhere in my home. I move around a lot. So I have mine mounted on a Gorillapod; a flexible tripod that can be attached to anything (this is actually one of my favourite pieces of gear, it has come in handy in the most unexpected ways – love it!)
This allows my camera to always be ready in position to go live. No playing around every time. If you want to start doing lives regularly, reducing your set-up time is going to be key to keep you consistent. Create space you can simply plug into in a couple of minutes.
The Logitech C920 also comes with a nice little piece of software that allows you to play with the camera settings. You can zoom in and out. Position it centrally or move around without moving the camera. You can also compensate for low lighting and add contrast. This will allow you to end up with a video quality that looks polished and professional. It also picks up your sound if you want to use this as you sound input, and the quality is pretty good.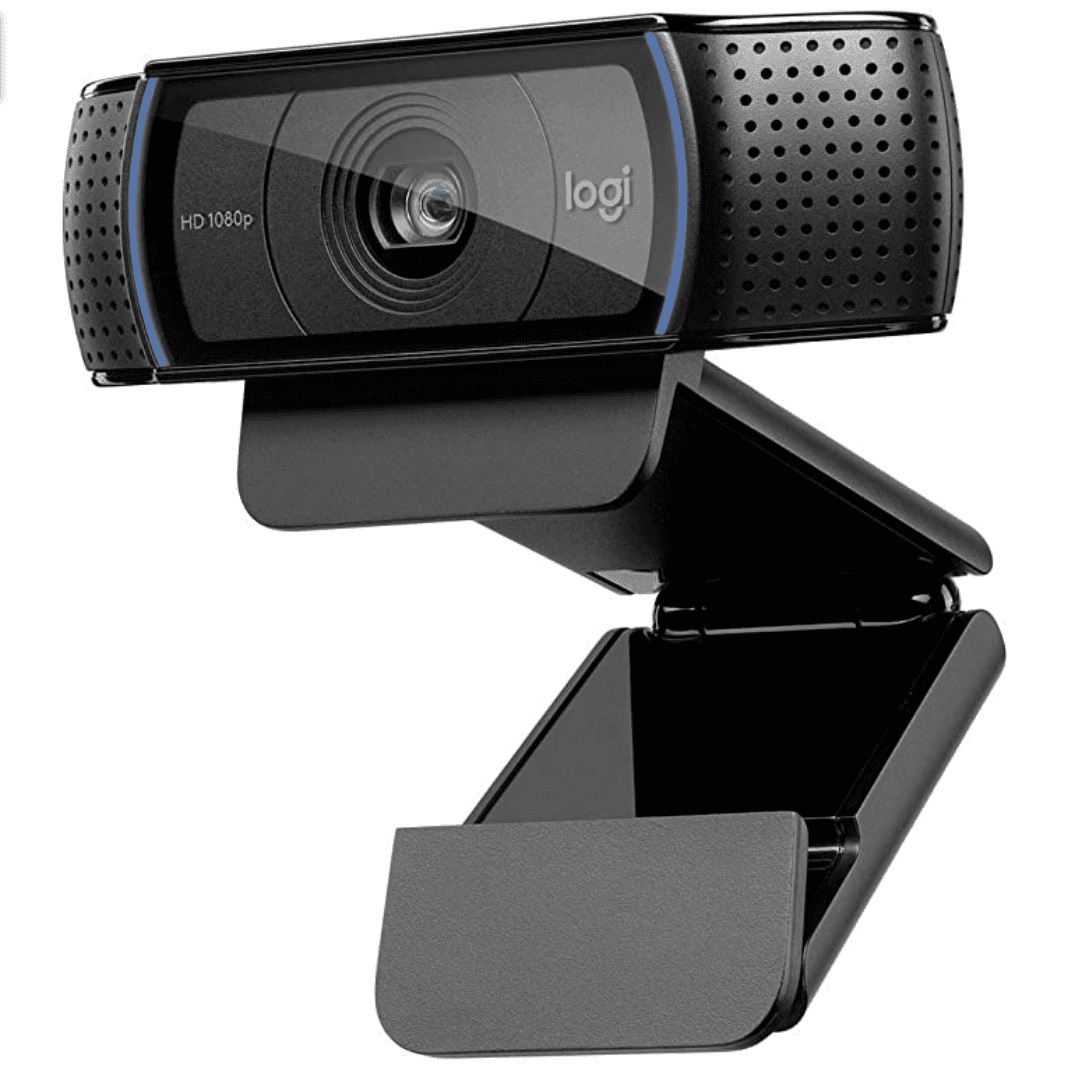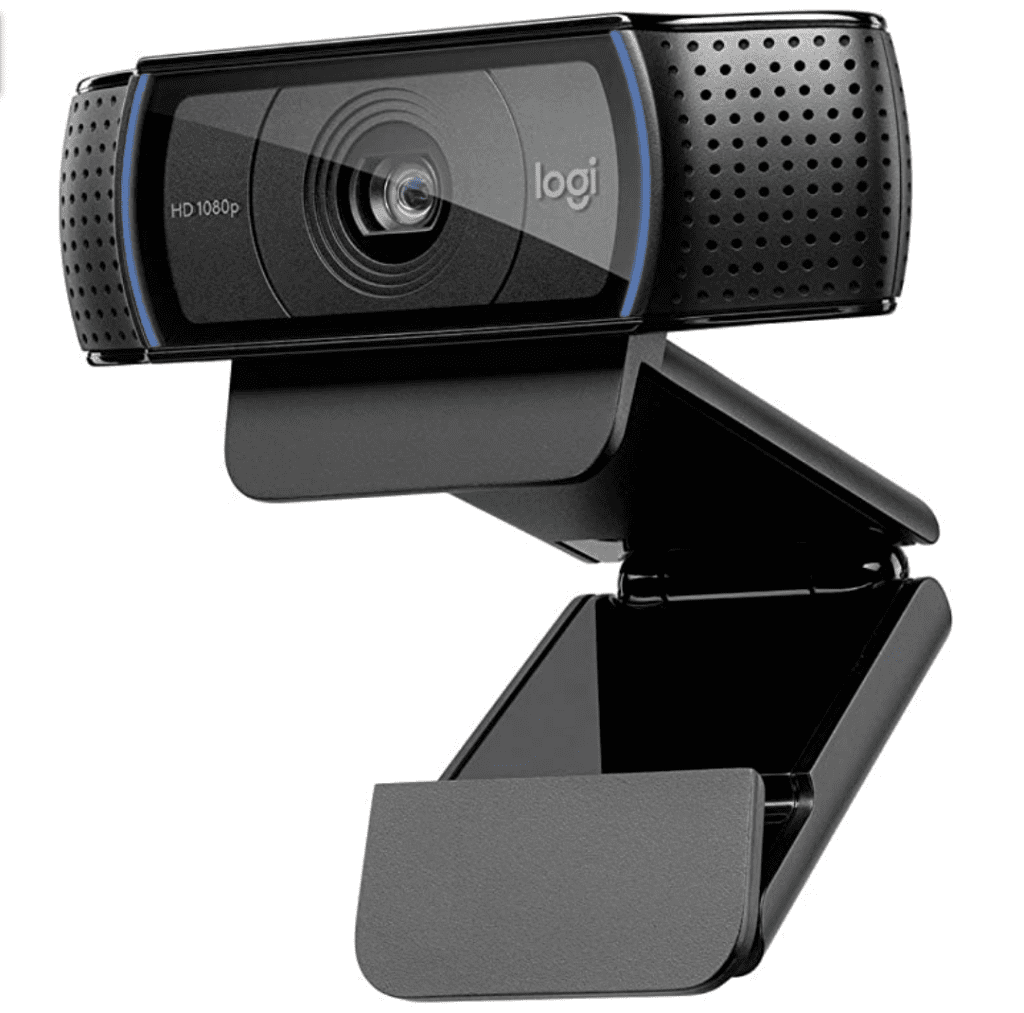 5. Live streaming set-up : Go pro with a podcast microphone

My next upgrade was a podcast microphone. I have pretty poor acoustics in my office so I really needed this one. It's also gonna help you sound more clear and people will hang around longer if they can hear you well and understand you clearly.
You can plug your headphones straight into it and plug it directly into your laptop or computer using its USB cable. If you're looking for really high-quality sound for your videos, podcasts or to record music, you won't be disappointed.
The software you use it with will make a difference too. If you're recording training videos, I highly recommend using zoom. This records in HD with high-quality sound. You also get a separate mp3 for sound only if you want. If you're recording a podcast, I noticed a big difference in quality when I switched from Audacity to Adobe Audition. Garage band also has some neat settings that make it sound great. If you're looking for high-end, you got it.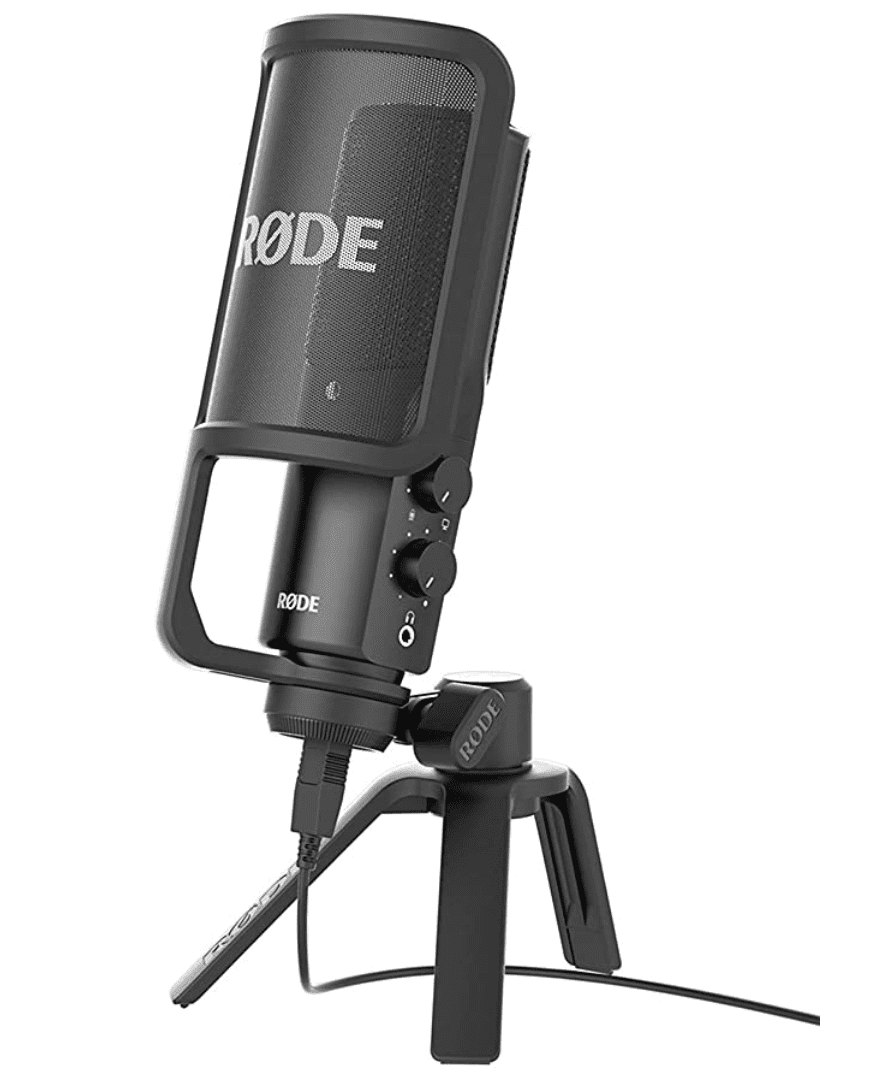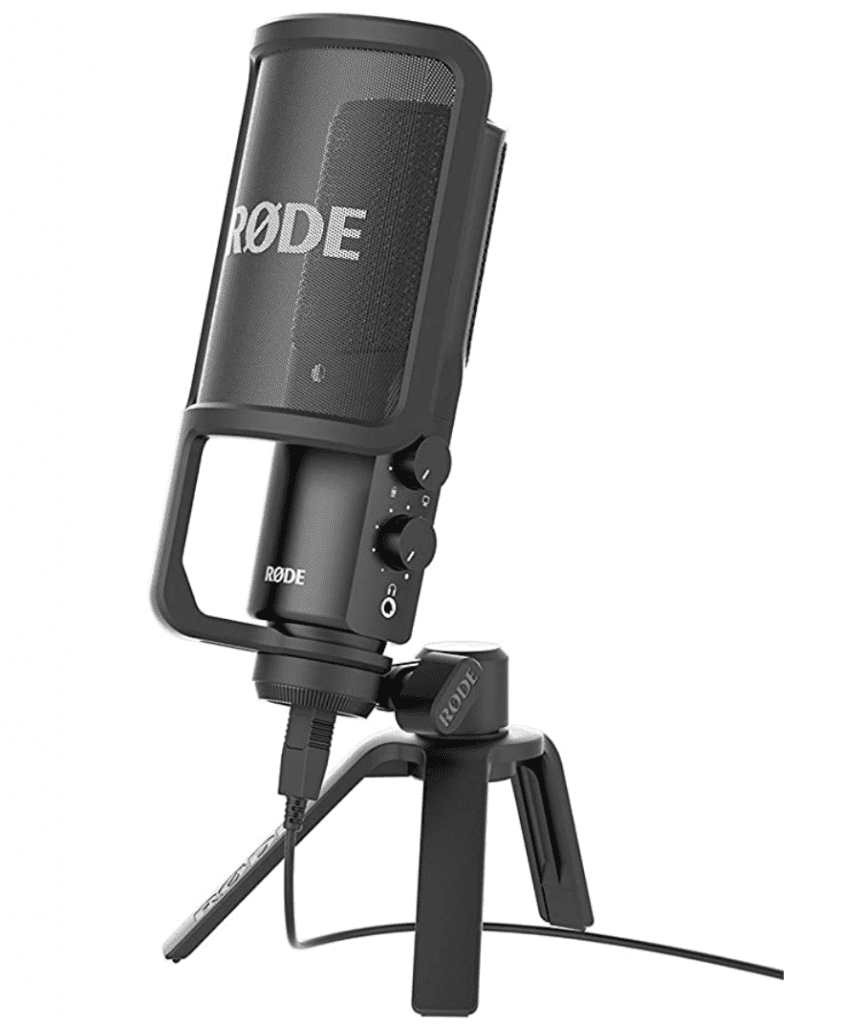 6. Live streaming set-up : Ring light
The next piece of equipment I invested in was a ring light. This I felt, was one of the most extravagant investments. Not because of the price tag, but because it feels like a big piece of professional equipment. You can opt for a smaller one than the one I have, but I couldn't find a medium-sized one at the time so I opted for the larger one. You can get the desk-sized version of this. I've seen people get pretty nice results with those too.
This light is ring-shaped and gives a softer light than your typical LED panel. It shows up in your eyes as a ring, making it more natural-looking. It actually adds brightness to your eyes helping you look less tired. (Although sleep should be high on your priority list before your lives.)
The Newer ring light comes with three colour filters just like the LED panel; White, orange and blue. This one is simply plugged into an electrical socket and you're good to go. It has a dimming switch, which barely dims it. If you expect it to have a large dimming range, you will be disappointed. Also, you'll need to switch it on a few minutes before you live because the dimming starts working once the light has warmed up. It's always preferable to dim it both for your eyes and the harshness of the lighting. It comes with an adjustable stand that can get pretty tall and an attachment that allows you to attach your camera in the middle of the ring and use it as a stand. I opt not to use it this way, however, this is ideal if you're showing make-up tips or something similar.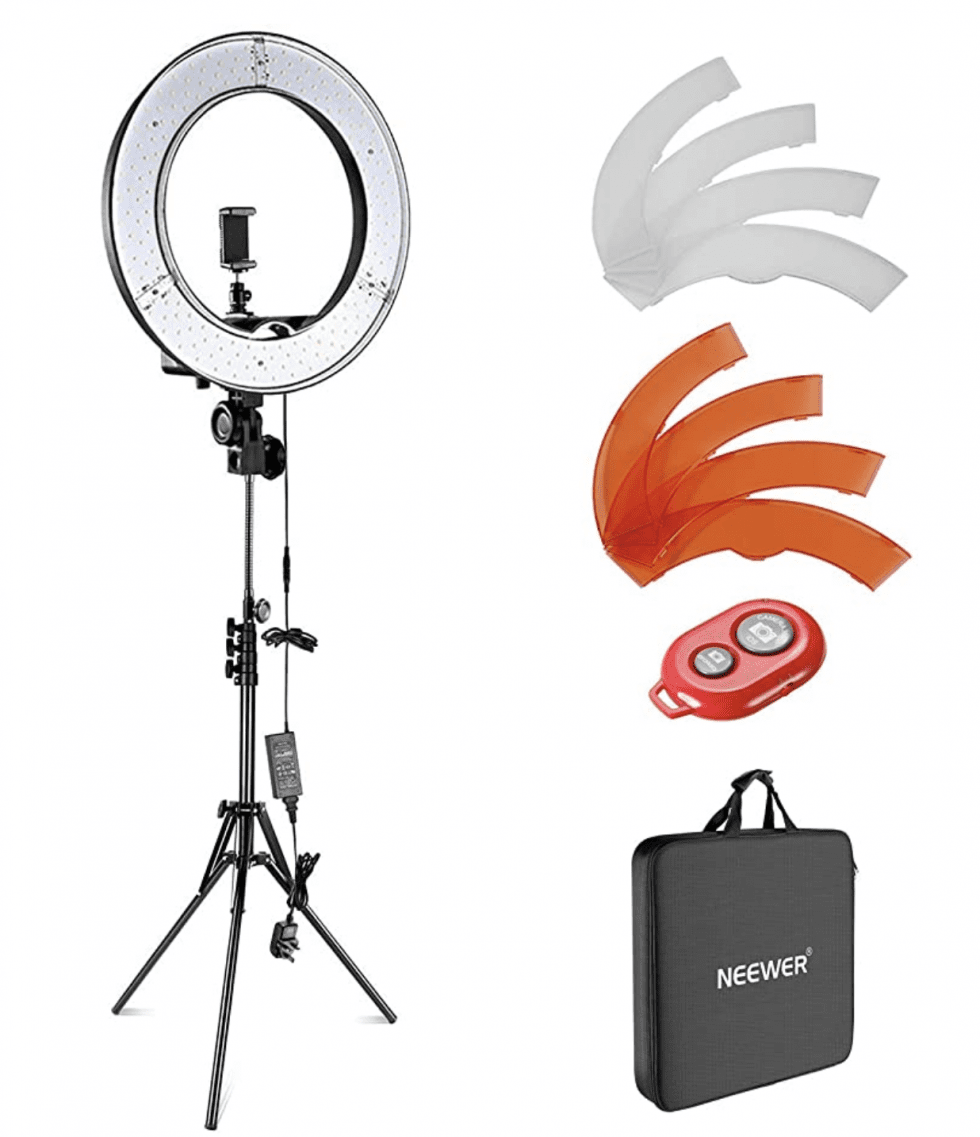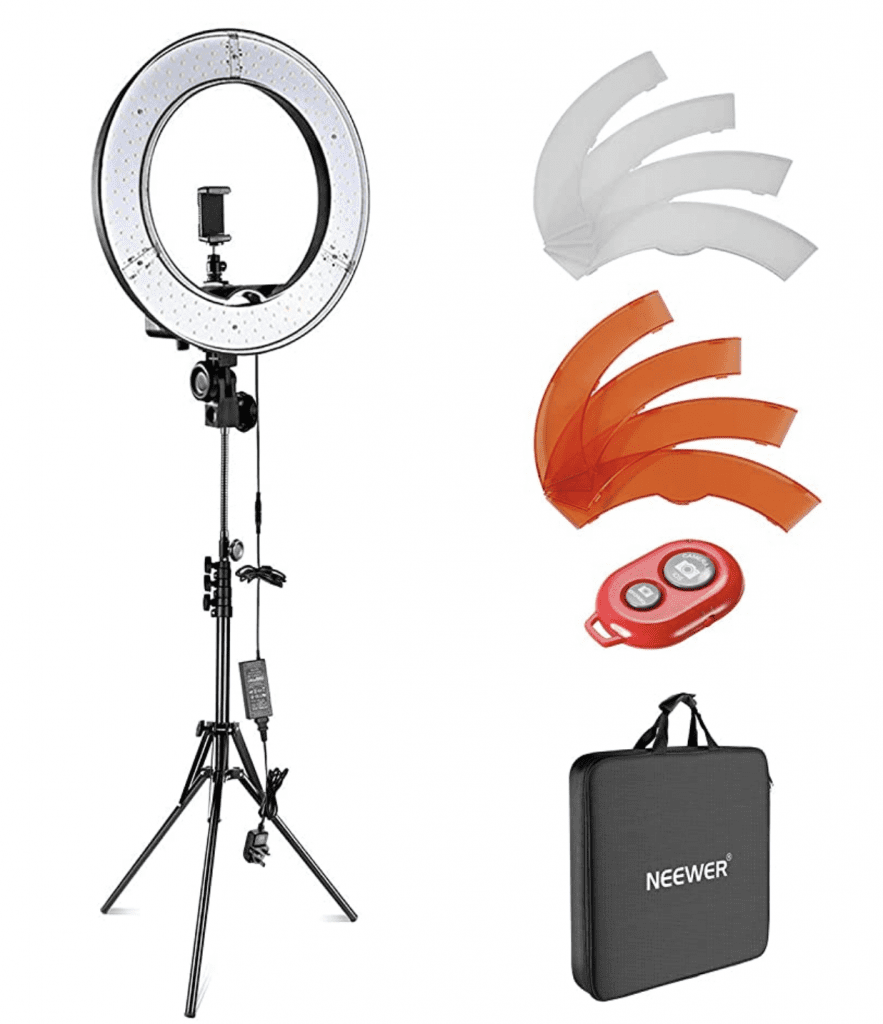 7. Live streaming set-up : Additional background lighting

This is purely optional, but if you're a stickler for detail, you'll love this. I also have a regular stand up lamp, that brightens my background. I mostly use this after sunset and its dark in my office. I use a regular lamp, a cheap one that I got from a hardware store. It just has an energy-saving bulb inside and its purpose is to light up my background. This makes the room feel more like a 3D space than a simple backdrop. It makes it feel more real, instead of looking like a staged background.
I like people to feel like they're being welcomed into my space when I do lives because that's true – it's my actual working space. So I've gone one step further to add this light. However, most people will not notice the difference.